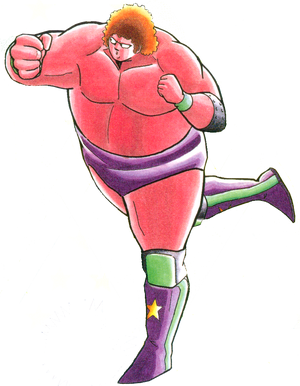 Name: Beauty Rhodes (ビューティー・ローデス)
Homeland: Florida, USA
Age: 28
Height: 190cm
Weight: 180kg
Chojin Kyodo: 550,000 Power
Trademark Techniques: Elbow, Deadly Drive, Airplane Spin, Surfboard, Bear Hug
First Appearance: American Tour Arc
Tag Team: The Emperors
WSC Champion. Parody of Dusty Rhodes. He is voiced by Masaharu Sato.
Story
Rhodes first appears when the leaders of the WSC and WSF challenge Kinnikuman for his championship belt. Later on, he is the first to be attacked by the mysterious 'Chanelman' (Actually Kinnikuman in disguise). Later, when the WSF decide to go along with Kinnikuman's masquerade, he attacks Sheik Seijin, only to have his face ripped off by Skull Bozu. After the WSF try to steal the belt by getting Kinnikuman and Robin Mask killed in their rematch over the Grand Canyon, he, now with a metal plate where he face was ripped off, and the rest of the WSC appear and try to take the belt in a riot. When God Von Erich appeared and declared a tag tournament to decide the leadership of the American Chojin world, Jean Steamboard from France was selected to be his partner, forming the Emperors.
In the first match, the Emperors went up against Kinnikuman and Terryman, The Machineguns. Because of Kinnikuman's inexperience with tag teams, the Emperors quickly had the advantage. However, the match ended in a draw. In their second match, they were up against the Blood Illusions, Skull Bozu and Devil Magician. However, because of the Blood Illusions' dirty tactics, including splashing Rhodes with alcohol and setting him on fire, the match ended in their loss. At the final match, Rhodes and Steamboat managed to recover in time to help Terryman get his artificial leg back from Kinkotsuman.
In the anime,he was a Robo-Chojin and he had a more brief battle with Kinnikuman,being owned by him when Kinkotsuman releved accidentally his identify.
Win/Loss Record (Singles)
Win/Loss Record (Tag)