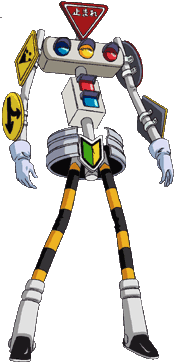 About
A living Traffic light from Japan. He was defeated by Mantaro in the first round of the HF First Year Replacement Tournament (also the only member of Generation EX to lose in the first round).
Techniques
Traffic Sign (交通標識殺法 Traffic Sign Sappō)
He can control his opponents movements by using various roads signs with hypnosis and weather control.
Dead Guard Rail (デッドガードレール)


Sign Rotary Saw (標識丸鋸 Sign Marunoko)

The stop sign that makes up his head spins around like a buzzsaw blade to slice into his opponent.



Triple Rotary Saw (トリプル丸鋸 Triple Marunoko)


Paved Road (舗装道路)

Nasty Drop (ナスティー・ドロップ)

Signal Smash (シグナル・スマッシュ)

Smashed Mantaro into his traffic signals.
External Links
Ad blocker interference detected!
Wikia is a free-to-use site that makes money from advertising. We have a modified experience for viewers using ad blockers

Wikia is not accessible if you've made further modifications. Remove the custom ad blocker rule(s) and the page will load as expected.