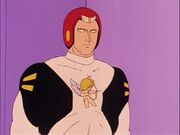 Name: Don Picadillycaone (

ドン・ピカーデリカオーネ

)
Classification: Human
First Appearance: Shitamachi Sensō, Anime Episode 3
A short bald moustachioed man who frequently appears throughout the series. He has a very active imagination and will sometimes try to get involved with the fights. He originally appears as the chief of the Earth Defense Force, but appears again during Kinnikuman's fight with Curry Cook during the Chojin Olympics as a fan eating gyudon. He appears twice as a doctor: first during the American Tour Arc as the doctor who takes care of Robert, and then during the Seven Akuma Chojin Arc as the doctor who tells Kinnikuman to rest for a few days.
He was the main character in Yudetamago's manga Shitamachi Sensō and makes cameos in many of their manga. He made a single panel cameo in Great Seigi Chōjin Rendevous in Kameari Park.
Ad blocker interference detected!
Wikia is a free-to-use site that makes money from advertising. We have a modified experience for viewers using ad blockers

Wikia is not accessible if you've made further modifications. Remove the custom ad blocker rule(s) and the page will load as expected.