Ad blocker interference detected!
Wikia is a free-to-use site that makes money from advertising. We have a modified experience for viewers using ad blockers

Wikia is not accessible if you've made further modifications. Remove the custom ad blocker rule(s) and the page will load as expected.
The Five Fated Princes (運命の五王子,, Unmei no Go Ōji) are five Chōjin who are successorship candidates for the Planet Kinniku Throne and are being controlled by the Evil Chōjin Gods. Because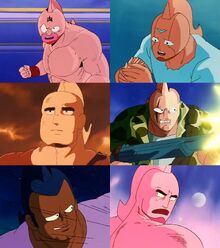 the possess the powers of a god, each one has a Chojin Kyodo of 100,000,000 Power. Ex: Super Phoenix, Zebra, Big Body, Mariposa, Soldier.
Most of the Chojin who compete on the Five Fated Prince's teams are never classified as a specific Chojin. Some exceptions are Team Phoenix's The Omegaman and Mammothman (Perfect Chojin), Team Phoenix's Satan Cross, (Akuma Chojin), and the members of the True Team Soldier (Zangyaku Chojin).
知性Team(Phoenix Team)
1回戦で強力(Big Body)、2回戦で残虐(Soldier)Teamを破り、Kinnikuman Teamとサバイバルマッチの決勝を争った。Teammateは正体を明かすまで白い装束を纏っていた。
Team構成
技巧Team(Zebra Team)
準決勝でKinnikumanTeamに敗れる。Teammateは縞模様の装束をまとって登場した。
真・残虐Team
本来のSoldierTeamのメンバーは以下の4人。
強力Team(Big Body Team)
1回戦で知性(Phoenix)Teamと戦い、MammothmanとPhoenixの2人にCannonballerを除くすべてのメンバーが敗れた。Teammateはリングに上がるまでモトクロス風ヘルメットとアメフト風のスタイルに身を包んでいた。
飛翔Team (Mariposa Team)
1回戦でKinnikumanTeamに敗れる。Teammateが召集された際のスタイルはソンブレロにポンチョ姿。試合開始前にMariposa以外の4人も正体を現した。
Outside the Five Fated Princes Teams
Chojin Blood Oath Army
Chojin Blood Oath Army (超人血盟軍 Chōjin Ketsumei Gun). They are named after the wrestling stable International Blood Oath Army (国際血盟軍 Kokusai Ketsumei Gun)
KinnikumanTeam
External Links