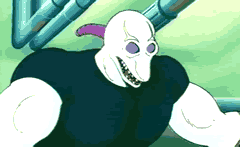 Classification: Psycho Chojin
Homeland: Planet Demon
Chojin Kyodo: 3,800,000 Power
First Appearance: Anime Episode ??
Gungarian (ガンガリアン, Gangarian) is one of the Psycho Choujin Shitenno. Uses a gun during combat. He fights against Terryman & Brocken Jr. and is defeated by Terryman's Calf Branding.
Ad blocker interference detected!
Wikia is a free-to-use site that makes money from advertising. We have a modified experience for viewers using ad blockers

Wikia is not accessible if you've made further modifications. Remove the custom ad blocker rule(s) and the page will load as expected.