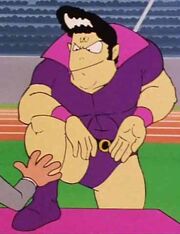 Irezumiman (イレズミマン, Tattooman) is a Furyo choujin who competes in the 20th Chojin Olympics. He demands two jetpacks for the Space Marathon and is eliminated in the Battle Royal. Amazonman comments that he must be from Ultimate Path Private High School (another manga that was running in Shonen Jump at that time). He was voiced by Eiji Kanie.
Ad blocker interference detected!
Wikia is a free-to-use site that makes money from advertising. We have a modified experience for viewers using ad blockers

Wikia is not accessible if you've made further modifications. Remove the custom ad blocker rule(s) and the page will load as expected.