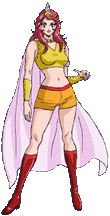 Jacqueline Muscle (ジャクリーン・マッスル)
Seiyuu: Junko Noda/Kathleen Delaney (US). Harabote Muscle's daughter and Ikemen Muscle's younger sister. She is beautiful but prefers violent matches and can be pretty mean (she can even make Ikemen cry). She becomes kinder after the Kinniku Mantaro vs. Kevin Mask bout and even supports Rinko and Kinniku Mantaro hooking up. In the american dub of the anime, while at first her bloodthirsty mindset makes her favor Kevin Mask, she partly repents upon witnessing his brutality against Mantaro, shocking Ikemen by stopping to cheer and praying loudly for Mantaro's safety, blaming herself for Mantaro's suffering

and feels relieved when she sees him fighting back without long-lasting damages
Her name can posibly be a reference to Jacqueline moore/Miss jacqueine from the wwe.
Ad blocker interference detected!
Wikia is a free-to-use site that makes money from advertising. We have a modified experience for viewers using ad blockers

Wikia is not accessible if you've made further modifications. Remove the custom ad blocker rule(s) and the page will load as expected.