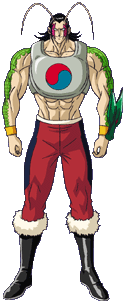 About
A Korean chojin nicknamed the "Blue Chili Pepper" that used Taekwondo. He was defeated by Kevin Mask in the second match of the first round of "A" block in the Choujin Olympics: The Resurrection. He was defeated within 7 minutes and 29 seconds. Named after the Korean cuisine jijim (찌짐). Has the character 韓 on his forehead.
Ad blocker interference detected!
Wikia is a free-to-use site that makes money from advertising. We have a modified experience for viewers using ad blockers

Wikia is not accessible if you've made further modifications. Remove the custom ad blocker rule(s) and the page will load as expected.