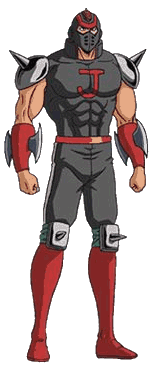 Name: Jyro (ジャイロ Jairo) / Gyro
Classification: Seigi Chojin
Height: 193cm
Weight: 102kg
Chojin Kyodo: 910,000 Power
Trademark Technique: Gyro Stretch
A Chojin in charge of the Chūgoku region. He also appeared in the first Nisei movie, getting easily defeated by The Cyborg. He was killed by Bone Cold.
Ad blocker interference detected!
Wikia is a free-to-use site that makes money from advertising. We have a modified experience for viewers using ad blockers

Wikia is not accessible if you've made further modifications. Remove the custom ad blocker rule(s) and the page will load as expected.