Kibou e no Tabi (希望への旅, A Journey to Hope) is the closing theme to the Tatakae!! Ramenman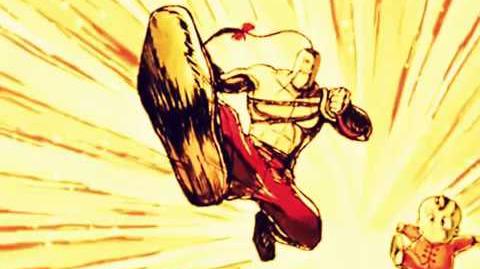 anime.
Lyrics (Japanese)
Soshite tatakai no daichi ni yuuhi ga maku wo oroshita
Ima tachitsukushi otoko wa kagayaki wo mashite
※Sono hitomi ga urunderu nowa te ni shita kizuna no tame
 Hitotsu no kizu wakachi aumono
 Kanashiku soshite itoshiku omou
 Yasuragi suteta otoko no hibi wa
 Dare no tame ni doushite
 Hohoemi somaru subete no inochi
 Itsuka itsuka itsuka
 Kanaetai to kitto kanaetai to
Soshite eien no chihei ni seiza ga michi wo shirushita
Ima arukidashi otoko wa sasurai wo erabu
Sono kokoro ga sagashiteru nowa ikiteru koto no akashi
Hitotsu no yume oikakeru mono setsunaku soshite mabushiku omou
Itami wo daita otoko no asu wa
Dare no tame ni doko e to
Yasashisa yureru subete no sekai
Itsuka itsuka itsuka
Mitsumetai to kitto mitsumetai to
※Repeat
Lyrics (Kanji)
そして戦いの大地に 夕日が幕をおろした
いまたちつくし男は 輝きをまして
※その瞳が潤んでるのは 手にした絆の為
 ひとつの傷 わかちあう者
 哀しくそして いとしく思う
 やすらぎ棄てた 男の日々は
 誰の ために どうして
 微笑み染まる すべての生命(いのち)
 いつか いつか いつか
 叶えたいと きっと叶えたいと
そして永遠の地平に 星座が道を標した
いま歩きだし男は さすらいを選ぶ
その心が探してるのは 生きてることの証
ひとつの夢追いかけるもの せつなくそして 眩しく想う
痛みを抱いた 男の明日は
誰のために どこへと
優しさ揺れる すべての世界
いつか いつか いつか
みつめたいと きっとみつめたいと
※繰り返し
Lyrics (English)
As the wind blows and the setting sun shines down onto this battlefield
I will continue to stand tall and shine
※With a watery gaze when we joined hands, a bond is created
Though I received my first scar in this fight
I do not want you to feel sad for me, my dear
For I am the type of man that is always at ease
And for whatever reason I will
Make sure that all life is full of smiles
Someday Someday Someday
With my path forever etched within the constellation on the horizon
I will continue onward
I am the type of man that will roam wherever he pleases
For this life that resides in my heart is proof
I will chase after that dazzling first dream
I am the type of man that embraces the pain of tomorrow
No matter where we are
The kindness of everyone makes the world tremble
Someday Someday Someday
For I will always be watching
※Repeat
Ad blocker interference detected!
Wikia is a free-to-use site that makes money from advertising. We have a modified experience for viewers using ad blockers

Wikia is not accessible if you've made further modifications. Remove the custom ad blocker rule(s) and the page will load as expected.