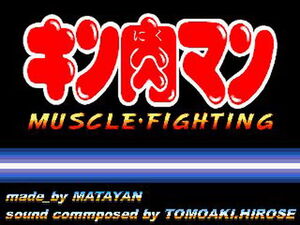 Kinnikuman Muscle Fight is a 2D fighting game created by fans of the Kinnikuman series. It is free to play and can be downloaded from www.2dbatlle.sakura.ne.jp
The game is fairly unknown in the west so if you are a fan then please visit the Facebook page at www.facebook.com/KinnikumanMuscleFight and give it a 'Like' to show support and help promote this fantastic 2D fighter.
General Information
If you don't want to navigate through the Japanese 2dbattle website then a complete version of the game can be downloaded from http://www.mediafire.com/download/bjhmmlmtwyy/Kinnikuman+Muscle+Fight.rar

A version including all extra characters can be downloaded from http://uploading.com/ba8cc7cc/Kinnikuman-Muscle-Fight-7z (You may need to set system locale to Japanese to use this version)

Just download the file, unzip it and run the .exe to play.
FAQ
- What are the moves for each character?
A moveslist can be found here - http://wiki.livedoor.jp/arunau3285

- Where can I find the other characters?
All characters can be found at www.2dbatlle.sakura.ne.jp or www.mfmirror.info To use the characters you have to download the file for the character you want, then extract that file using the program 7-zip (www.7-zip.org).
Then place this extracted file into your game folder to use that character in game. The new file will replace an old file so click 'Yes' when prompted.
- Why can't I use all the characters at the same time?
There are a limited number of character slots available so when you add a new character file to the game folder an old character will be removed. It is a good idea to keep a copy of every character so you can swap them in and out whenever you want.
Ad blocker interference detected!
Wikia is a free-to-use site that makes money from advertising. We have a modified experience for viewers using ad blockers

Wikia is not accessible if you've made further modifications. Remove the custom ad blocker rule(s) and the page will load as expected.