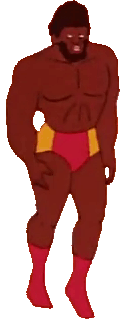 Name: Kintaman (

キンターマン

)
Classification: Seigi Choujin
Homeland: Central African Republic
Choujin Power: 350,000
First Appearance: 20th Choujin Olympics
A competitor in the 20th Choujin Olympics. In the preliminaries, he was able to lift a 1-ton monster without using his hands...
In the anime he was called Kuntaman so not to sound like kintama (testicles). In the TV Special he was called Tankiman.
Ad blocker interference detected!
Wikia is a free-to-use site that makes money from advertising. We have a modified experience for viewers using ad blockers

Wikia is not accessible if you've made further modifications. Remove the custom ad blocker rule(s) and the page will load as expected.