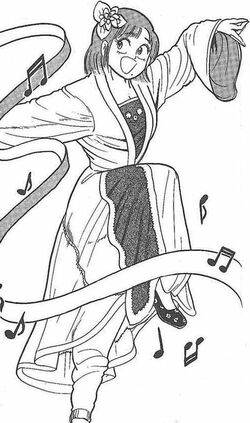 Name: Lā Niáng (拉娘 Rā Nya)
Age: 17
Family: Victory Ramenman (brother), Somenman (father, deceased), So Niang (mother, deceased), Nyumen (grandfather, deceased), Lo Niang (grandmother, deceased), Hiyamugi (uncle, deceased)
First Appearance: Manga chapter 8, Anime episode 6
Voice: Yuriko Yamamoto
About
Lā Niáng is the younger sister of Victory Ramenman. Believed to have been killed during the Cobra Gang attack, the two are reunited several years later. She was found and raised by a kind old carpenter in Guǐshŏu Village. After the carpenter was killed by Gyokuo, she began working as part of the Mapo Traveling Entertainment Party, showing up again every now-and-then.
Ad blocker interference detected!
Wikia is a free-to-use site that makes money from advertising. We have a modified experience for viewers using ad blockers

Wikia is not accessible if you've made further modifications. Remove the custom ad blocker rule(s) and the page will load as expected.