Theme songs
Kinnikuman
Opening Themes

2. "Honoo no Kinnikuman (Blazing Kinnikuman)" (eps. 66-124) by Akira Kushida
3. "Kinnikuman Sensation" (eps. 125-137) by Akira Kushida
1. "Kinnikuman Go Fight!" (eps. 1-65) by Akira Kushida

Closing Themes

2. "Kinniku Mambo" (eps. 66-96, 107-124) by Akira Kamiya (Kinnikuman)
3. "Kinnikuman Ondo" (eps. 97-106) by Akira Kamiya (Kinnikuman) and Minori Matsushima (Meat)
4. "Kinnikuman Club" (eps. 125-137) by Akira Kamiya (Kinnikuman)
1. "Niku 2x9 Rock n' Roll" (eps. 1-65) by Akira Kushida, feat. Akira Kamiya (Kinnikuman) and Tetsuo Mizutori (Yosaku)
Tatakae!! Ramenman (1988)
Opening Theme
Closing Theme
Kinnikuman: Scramble for the Throne (1991-1992)
Opening Theme
Closing Theme
Kinnikuman Nisei (2002)
Opening Theme
"HUSTLE MUSCLE" by Yogo Kono

Closing Themes
1. "Ai no Muscle" (eps. 1-26) by The Permanents
2. "Koi no My Chop!!" (eps. 27-51) by Yumena Yokosuka
Kinnikuman Nisei: Ultimate Muscle (2004)
Opening Theme
"Akairo Dance Hall" (The Red Dance Hall) by Sui
Kinnikuman Nisei: Ultimate Muscle 2 (2006)
Opening Theme
Closing Themes
"Chikai no Tsuki" by Kagrra
Character Themes
Kinnikuman
Kinnikuman Nisei (2002)
Additional Songs
Kinnikuman (manga)
The National Anthem of Planet Kinniku.
Sung by the kids in chap 6
Theme song of Akaiwa
Song sung by Akaiwa after being injured.
Sung by Meat in chapter 19
Sung by Kinnikuman on his way to his date with the "college girls".
Kinnikuman entrance theme; Chojin Olympics final bout VS Robin Mask.
Kinnikuman's victory music at the 20th Chojin Olympics
The Emperors' Entrance Theme
Entrance Theme of the Blood Illusions
Entrance Theme for The Machineguns.
Sung by Hiroshi Tazahama in ch 73.
Sung by Kinnikuman on arrival on Rakka-sei.
Played by Stereo Cassette King which makes Kinnikuman dance.
Kinnikuman (1983-1986)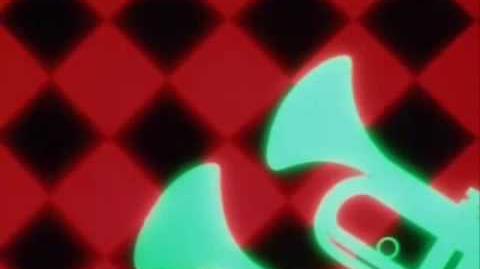 Kinnikuman: Scramble for the Throne (1991-1992)
Kinnikuman Nisei (manga)
Osho (王将) by Hideo Murata (JASRAC出99003364-901)

Mantaro's entrance theme to match with Check Mate.

Spinning Toe Hold (スピニング・トーホールド) by Creation) (JASRAC#097-6375-9)

Terry the Kid's entrance theme before bout with Scarface.

Kawaii Sakanaya-san (かわいい魚屋さん) (JASRAC出9906420-901)

Mantaro's entrance theme to match with Dead Signal.
Kinnikuman Nisei (2002)
Kinnikuman Nisei: Ultimate Muscle (2004)
Kinnikuman Nisei: Ultimate Muscle 2 (2006)