Michie Tomizawa
富沢美智恵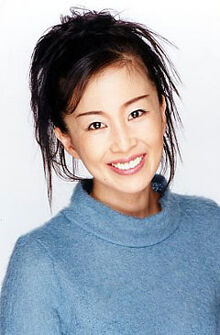 Michie Tomizawa (富沢 美智恵, Tomizawa Michie, born October 20, 1961) is a semi-retired seiyū born in Maruko, Nagano and raised in Shinmachi, Gunma.
She once appeared in the American magazine People when Michael Jackson took her on stage during a concert and kissed her.
Tomizawa announced her retirement from voice acting before getting married in 2002.[2] However she came out of retirement for various guest roles such as in 2004's Disgaea and 2006's Black Lagoon. She also appeared in a number of Musical Kayou Shows as her Sakura Taisen character Sumire; she retired from the annual performances after getting married but came back for the 2005 show, the final show in 2006, and the 2007 Budoukan show. Although said to have retired from the Sakura Taisen world, she did, however, appear backstage in scenes of Hanagumi Camera and later on stage during the some of the later shows.
References
External links
Ad blocker interference detected!
Wikia is a free-to-use site that makes money from advertising. We have a modified experience for viewers using ad blockers

Wikia is not accessible if you've made further modifications. Remove the custom ad blocker rule(s) and the page will load as expected.