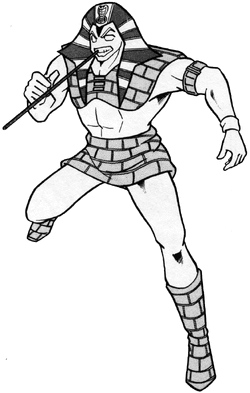 Mister Khamen is an Ancient Egyptian monarch Chojin (a parody of Tutankhamen) and fortune teller. He was given Meat Alexandria's left leg when they kidnapped him. He fought Brocken Jr. in his match, and was about to win when a mysterious stranger (Mongolman) dropped a smoke bomb into the ring and entered the fight to defeat Mister Khamen, breaking his neck with a Leg Lariat.
He uses the archaic personal pronoun Warawa (わらわ).

Theme Song: Pharaoh's Curse (ファラオの呪い, Farao no Noroi) by Junichi Kawauchi and Hideyuki Hori
Titles
Pyramid Power Death Match Champion
Nicknames
Devil of the Nile
Mysterious Egyptian Chojin Who Foretells Victory
Fight Record
Techniques
Mummy Package (

ミイラパッケージ

Miira Pakkeeji

)

Cartouche Straw (

カルトゥーシュ・ストロー

Karutūshu Sutorō

)

Paralysis Flash (

金縛り閃光

Kanashibari Senkō

)

A paralysis beam emitted from his eyes.

Pharaoh Curse Head (

牙地獄

Farao Kāsu Heddo

)

Mister Khamen uses his floating head to bite down on the opponent.

Art of Face Strength (

顔強の術

Gankyō no Jutsu

)

An ancient Egyptian face-hardening technique.

Pharaoh Bone Scattering (

ファラオ解骨術

Farao Kaikotsu Jutsu

)
Ad blocker interference detected!
Wikia is a free-to-use site that makes money from advertising. We have a modified experience for viewers using ad blockers

Wikia is not accessible if you've made further modifications. Remove the custom ad blocker rule(s) and the page will load as expected.