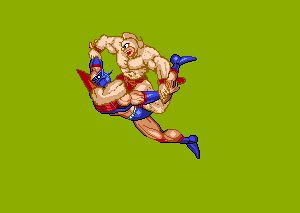 Muscle Spark (マッスルスパーク)
, Kinnikuman ultimate technique and one of the Kinniku Clan's Three Great Techniques. Kinnikuman bounces his opponent off his chest and into the air numerous times. He then leaps up after them and gets behind them. He then grabs their wrists with his hands, their neck with his right leg, and their left leg with his left leg, and pulls. As they descend, he gets back-to-back with his opponent and grabs their arms and hooks their legs with his. Right before they hit the canvas, he arches his back causing his opponent's body to fold, and drives them neck and knees first into the canvas.
Two Incomplete Versions of this technique exist: Kinnikuman's, where he only grabs the neck and left leg with his legs, and Ataru's, where he only does the last part. Kinnikuman fuses the two together in order to perfect the technique.
Ad blocker interference detected!
Wikia is a free-to-use site that makes money from advertising. We have a modified experience for viewers using ad blockers

Wikia is not accessible if you've made further modifications. Remove the custom ad blocker rule(s) and the page will load as expected.