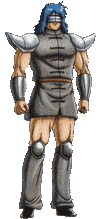 A Chojin who is assigned to Shikoku. Named after namul. He also appeared in the first Nisei movie, where he is seen signing autographs and shaking hands with many fans. He later joins the Seigi Chojin in their battle against The Cyborg.
Ad blocker interference detected!
Wikia is a free-to-use site that makes money from advertising. We have a modified experience for viewers using ad blockers

Wikia is not accessible if you've made further modifications. Remove the custom ad blocker rule(s) and the page will load as expected.