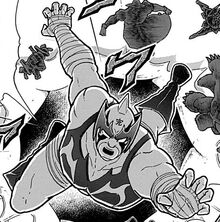 Name: Nemesis (ネメシス)
Real Name: Sadaharu Kinniku (キン肉サダハル)
Nickname: Perfect Muscle (完肉 Kanniku)
Classification: Perfect Chojin
Homeland: Planet Kinniku
Height: 205 cm
Weight: 140 kg
Chojin Kyodo: 68,000,000 Power
Trademark Techniques: Battleship Sink, New Kinniku Buster, Perfect Muscle Spark, Nemesis Driver, Perfect Defender, Perfect Assailant, Neck Pump Up, Ultimate Romero Special (極・吊り天井固め), Perfection Buster, Arrogant Spark, Busters' Docking
First Appearance: Perfect Large Numbers Arc
The younger brother of Tatsunori, Sadaharu Kinniku started out life into the royal Kinniku family. He possessed a genius wrestling ability and believed himself to be superior to his brother. At the mere age of 13, he unconsciously performed the Muscle Spark, killing his sparring partner in the process. For this act, he was locked away in an underground dungeon and his existence erased from history. After receiving the death sentence, he escaped from prison to Mt. St. Parfait where he faced off against Mirageman. Recognizing Sadaharu as the descendant of Silverman, Mirageman invited him to become reborn as the Perfect Chojin Nemesis.
Profile
Win/Loss Record (Singles)
Trivia
Ad blocker interference detected!
Wikia is a free-to-use site that makes money from advertising. We have a modified experience for viewers using ad blockers

Wikia is not accessible if you've made further modifications. Remove the custom ad blocker rule(s) and the page will load as expected.