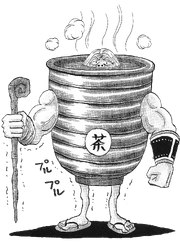 Name: Ochaman (

お茶マン

)
Chojin Kyodo: 10,000,000 Power
Trademark Technique: Jasmine Driver, Green Tea Drop (緑茶落とし), Oolong Buster, Shorthand (速記)
Submitted by: Mitsutoshi Shimabukuro
Bio
The mysterious chojin Ochaman may have been riding in the Shinkansen that Terryman stopped to save the dog during the Chojin Olympics. Not much else is known about him.
References
http://www.medianetjapan.com/2/20/entertainment/bougu/02_zukan/04_ta/02_contest/kon13.html
Ad blocker interference detected!
Wikia is a free-to-use site that makes money from advertising. We have a modified experience for viewers using ad blockers

Wikia is not accessible if you've made further modifications. Remove the custom ad blocker rule(s) and the page will load as expected.