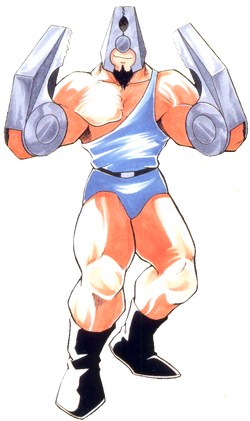 Name: Pinchman (

ペンチマン

)
Homeland: Trinidad and Tobago
Age: 26
Height: 228 cm
Weight: 200 kg
Choujin Kyoudo: 3,400,000 Power
Trademark Techniques: Pinch Claw (

ペンチ・クロー

)
First Appearance: Manga Chapter 276
A Choujin whose head and forearms are pliers. He starts out in the advantage against Mammothman and uses his Pinch Claw, but is soon killed by the Powerful Nose Breaker.
Titles
Team Big Body: Advance Guard
Ad blocker interference detected!
Wikia is a free-to-use site that makes money from advertising. We have a modified experience for viewers using ad blockers

Wikia is not accessible if you've made further modifications. Remove the custom ad blocker rule(s) and the page will load as expected.