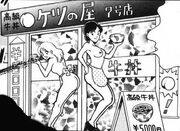 Names: Satsuki (さつき) and Kimiko (きみこ)
Ages: 19 and 18
First Appearance: D.M.p Arc
Two hostesses at the adult Gyūdon restaurant "Ketsunoya #7". Mantaro Kinniku illegally enters the restaurant and parties with them, but is met by Sunshine who uses this to blackmail him.
Ad blocker interference detected!
Wikia is a free-to-use site that makes money from advertising. We have a modified experience for viewers using ad blockers

Wikia is not accessible if you've made further modifications. Remove the custom ad blocker rule(s) and the page will load as expected.