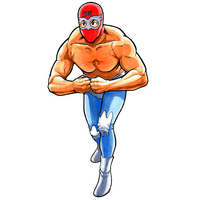 A Mexican Luchador. He fought and lost to Terryman in the first round of the 20th Olympics. Parody of Mil Máscaras. His name comes from Mil Máscaras' entrance theme, Sky High by Jigsaw.
Win/Loss Record
Ad blocker interference detected!
Wikia is a free-to-use site that makes money from advertising. We have a modified experience for viewers using ad blockers

Wikia is not accessible if you've made further modifications. Remove the custom ad blocker rule(s) and the page will load as expected.