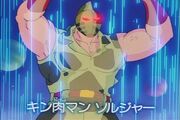 Name: Kinnikuman Soldier
Real Name: Soldierman
Classification: Five Fated Princes
Age: 24
Chojin Kyodo: 100,000,000 Power
Favorite Techniques: Assault Driver
The God of Brutality transformed Soldierman into the original Kinnikuman Soldier (キン肉マンソルジャー). He was killed by Ataru Kinniku, who subsequently assumed the Soldier identity.
Original Soldier's teammates
Ad blocker interference detected!
Wikia is a free-to-use site that makes money from advertising. We have a modified experience for viewers using ad blockers

Wikia is not accessible if you've made further modifications. Remove the custom ad blocker rule(s) and the page will load as expected.