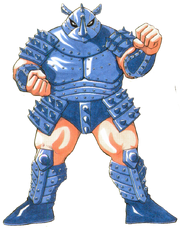 The Cyborg took Rina hostage and forced Mantaro into a match on the Tokyo Tower. He later appeared in the Poison Six Pack Arc in the anime where he fought Kevin Mask.
The ateji used to spell "Cyborg" mean "Foolish Violent Rhinoceros". In the English version, he talks with a Rocky Balboa-like accent. He first appears as a fan submission on the cover art for chapter 374 of the original Kinnikuman.
Win/Loss Record (Single)
Ad blocker interference detected!
Wikia is a free-to-use site that makes money from advertising. We have a modified experience for viewers using ad blockers

Wikia is not accessible if you've made further modifications. Remove the custom ad blocker rule(s) and the page will load as expected.