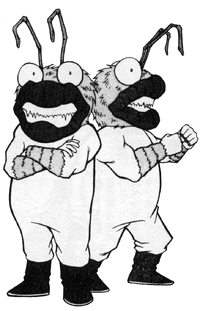 Name: The Fishers (ザ・フィッシャーズ)
Classification: Seigi Chojin
Ages: 18 & 16
Height: 100 cm
Weight: 50 kg
Individual Chojin Kyodo: 20,000 Power
Combined Chojin Kyodo: 40,000 Power
Favorite Technique: Fisherman's Suplex
First Appearance: 21st Chojin Olympics Arc
Submitted by: Nobuhiro Samae (佐前伸宏)
Two little guys (who bear a striking resemblance to the Dappya men from Urusei Yatsura)

who caused some trouble during the final prelim of the 21st Chojin Olympics: The Big Fight. They were eventually eliminated by Kinnikuman and Wolfman.
Ad blocker interference detected!
Wikia is a free-to-use site that makes money from advertising. We have a modified experience for viewers using ad blockers

Wikia is not accessible if you've made further modifications. Remove the custom ad blocker rule(s) and the page will load as expected.