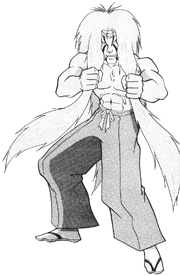 Name: Yashamu (夜叉夢 yaksha dream)
Classification: Akugyo Chojin
Height: 175cm
Weight: 95kg
Chojin Kyodo: 1,200,000 Power
Favorite Technique: Kagamijishi Guruma (鏡獅子車)
Submitted by: Shoko Shimada (島田章子) of Hiroshima as Yashamu (夜叉武)
A Yaksha-themed villain. One of the "Night Watchmen (寝ずの番, Nezu no Ban)" of the d.M.p's headquarters, the Dungeon Hand (迷宮の手, Dungeon Hand). He uses his long hair as a weapon and is defeated by Gazelleman. He first appears as a fan submission on the cover art for chapter 374 of the original Kinnikuman.
Win/Loss Record (Singles)
Ad blocker interference detected!
Wikia is a free-to-use site that makes money from advertising. We have a modified experience for viewers using ad blockers

Wikia is not accessible if you've made further modifications. Remove the custom ad blocker rule(s) and the page will load as expected.